Carrie Harper, 1891-1972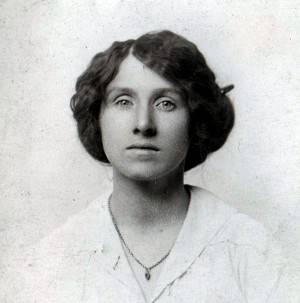 The following recollections were written by my mother, Carrie's daughter-in-law.
Caroline Harper - always known as Carrie - was my mother-in-law. She was born in 1891 and she then lived at Mill Farm, Great Bromley with her mother and father, George and Elizabeth. The nearest town was Colchester, Essex.
It is obvious that Carrie was quite a lively young lady. The first story about her was that, one evening, she missed the last bus back from Colchester and had to walk home in her high heeled shoes, and apparently her feet were in a bad way, so her father took her shoes and chopped the heels off with an axe.
Meanwhile, she had a steady boyfriend, Arthur Bines, who lived a few miles away, probably in North Essex, as can be seen on the postcard he sent her in 1908, and it seems they met regularly. He was the father when she became pregnant in 1911 and in those days this brought shame on her whole family. Her son was born in Tendring on Christmas Eve and she named him Arthur Reginald. With no alternative, she had to have him adopted, and he spent the next ten or eleven years in Epping with his foster-mother. Carrie and her younger sister, Dorothy, went to work in London and looking at their photos, they appeared to be leading a very happy life.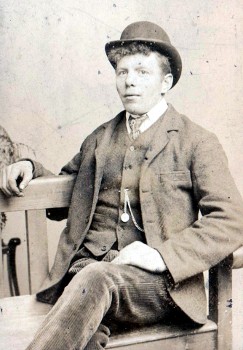 Arthur entered the army for the 1914/1918 war and, after he was discharged, went to the USA, presumably to "make his fortune". It must have worked to a certain extent, because he did send the money to enable her and Reg to join him in USA but, meanwhile she had met, fallen in love with and married Ferdinand Segers, who had been in the Belgian army. He must have got papers somehow, because he was a senior chef at the Savoy Hotel in London, so the money Arthur had sent was spent on setting up a lodging house at 60 Neal Street in the west-end of London (which incidentally is now a very fashionable shopping and eating street near the Covent Garden complex). The lodging house had 12 lettable rooms and they were all taken up by staff from abroad who worked at the Savoy. Carrie ended up decorating, cleaning, washing bed linen, and so on, for the grand sum of £1 per week for each inhabitant, and she was living in the basement.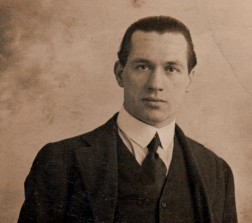 Then, presumably after a few years, Ferdinand left her to live with another woman. Her son Reg was, by this time, 13 years old, so she brought him to live with her in Neal Street. As soon as he was 14 years old - school-leaving age in those days - she got him a job at the Savoy, training as and shortly becoming a junior waiter, so this increased her income. He lived with her and worked in other restaurants until he got married for the first time in 1936. He stayed in Neal Street for so long because he was a very keen autograph collector and it was handy for the west-end theatres. Carrie later also worked in the evenings in a restaurant in Charing Cross Road, as she was saving for her retirement. She planned to live near her brothers, Frank and Dick and their wives, where they were living in Dovercourt, a seaside town in Essex.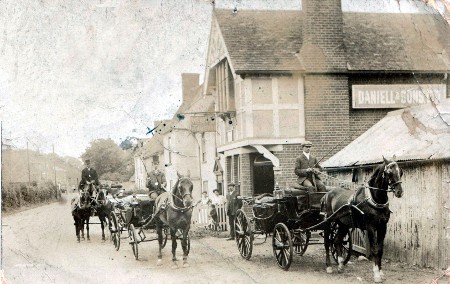 She found a two-bedroom bungalow for sale in Dovercourt for £400, which she bought, but couldn't move there until she had a bit more money, and because she wouldn't get the state pension for a few years. So when Frank asked her if meanwhile his son and family could rent it from her, she agreed; but then, when she was financially able to move there, her nephew and family had trouble finding an alternative home. Eventully she moved to her new home in Dovercourt but, by then Dick had moved some distance away and Frank had bought or rented a smallholding a few miles away. As regards making friends, there was a problem for her, although I don't think she realised. She had become so used to conversing with the foreign lodgers that her speech and grammar sounded as if she were not English and Dovercourt was very English. The first thing she did was redecorate the whole bungalow to her liking and make any repairs that she considered necessary, and her favourite tool was a hammer. She thoroughly enjoyed working and gardening in her own place. Gradually she became friends with some other women and, after a few years, Frank and his wife moved back to Dovercourt and she settled down. She even joined the Hard of Hearing Club and, when she went there, she wore her hearing aid. That was the only time she wore it. When she was visited by her son and family, she liked to walk with her grandchildren. Her favourite was a nearby graveyard, but the children seemed to enjoy it too. When her son and family were staying with her, they had to answer to the name of Segers, because she didn't want anyone there to know that Reg was illegitimate.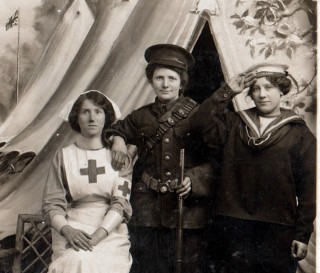 As she got older and not able to do as much work in the house or garden, her son visited her regularly to help; and once a year the whole family went there for a week to do any big jobs which were needed - one such instance was when they had to lift all of the living room floorboards, where they found that the wooden beams underneath it had rotted away as they stood directly on to the earth and had to be replaced as additionally they were smothered in red ants. It was a very busy week when not much was seen of the beach.
Having not heard a word from Ferdinand since he left her, she received a letter from him (how did he know her address?) telling her that his partner had died and he was living alone in Bristol and was very lonely. He asked her if she would visit him and, of course, being the type of woman she was, she agreed. When she arrived there, she found that he was almost an invalid. She cooked him a meal and, later in the evening he asked her to open a drawer and pass him some papers. When he received them, he sorted out and destroyed some papers and told her afterwards that it was his will and, as they were still legally married, she should have all of his possessions. What she didn't know at the time was that when he left her, the woman who became his partner, already had a very young daughter who believed that Ferdinand and her mother were married and she was their daughter. After Carrie had been with him a few days, he was taken ill and, when he was hospitalized, they diagnosed his illness as food poisoning and he died soon after. Carrie was so worried that
she sent her son a telegram - she was afraid she would be arrested, because, some years previously, while still living in London, she had been admitted to hospital suffering from food poisoning. It took two months to bring her back to health, so she had a lot of knowledge about this illness. Eventually, when a post-mortem was carried out on Ferdinand, it was found that a diseased liver was the cause of his death. When she was at his flat after his dealth, she was visited by his now adult daughter who found it hard to believe that Carrie was his legal wife and she was not even Ferdinand's daughter. Needless to say, she was very upset. His possessions were found to be almost worthless except for a French chiming clock. So, after arranging his funeral, Carrie returned to Dovercourt, with the clock.
One evening in 1972 while she was working alone in the bungalow she collapsed on to the floor and became unconcious; unfortunately, she was not found until the following morning, when she was ambulanced to hospital but, by then, she was suffering from pneumonia. Her son was advised and travelled down to see her for what proved to be the last time, and sadly she died the following day. When her son visited the bungalow, he found the hammer on the floor where she had been working before she collapsed.
And these are my own childhood recollections.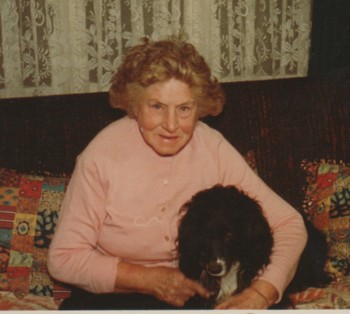 For me, Carrie was just "Granny". I barely even knew that she had an actual name. She was associated with the beach and the holidays. Our summer holiday, when I was small, was a week crammed into her tiny bungalow in Dovercourt, an outing to the beach in the morning or afternoon, sometimes both, on the green Eastern National bus, a choc-ice if I was lucky. Granny was of course - to my seven-year old eyes - not just old but positively ancient. It was only after her death, when my parents found the old pictures that I've been able to reproduce here, that I discovered that she was once young and beautiful. She had a dog, Tony, which had been a cause of mild upset in the family - my parents wanted to call me Tony, but felt they couldn't once she had adopted the spaniel mongrel shortly before I was born.
I remember her very odd accent, a mixture of rural Essex and Belgian. She spoke of a "brasserie" when she meant "brassiere" - the result no doubt of too long spent with foreign waiters. Although she only wore one, like her hearing aid, when she went to the weekly Hard of Hearing Club meeting.
A few times we visited Mill Farm, her birthplace, to see my Uncle Ernest - her brother-in-law, from Switzerland and actually called Ernst, who had married her sister Dora before her untimely death from the scourge of the times, tuberculosis. It was quite an expedition - although it was less than twenty miles, the bus ran just a couple of times a day, winding its way along twisty roads, and took forever to get there.
She was always active, pottering around the house or the garden. It seems to me that there was always a smell of wet paint somewhere. She had a shed, mysteriously full of stuff, including an ancient hand-operated wooden mangle. I took her strength for granted. To choose to remain an unwed mother, in 1911, must have taken a phenomenal strength of character.

Her funeral, in 1972 remains clearly in my mind. My maternal grandparents died when I was a small child. Carrie, or Granny, was the only one I have any grown-up memories of. The funeral was in Colchester, a long journey from where I was living in the north of England at the time. There was a school next to the chapel, and children were playing as we filed out. It seemed fitting, a final lively and youthful tribute to my grandmother.